All-Over Shirt Printing | Full Sublimation Shirts Printing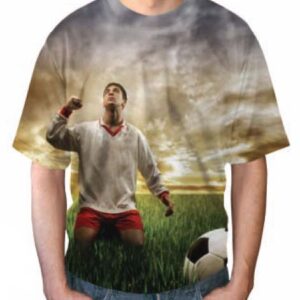 We now offer all-over shirt printing service here at Spectracolor. There is no setup fees and no minimum requirements. Also, there is no limitation on artwork at all. Anything and everything you imagined and designed on computer can be translated to the shirts. Your designs can be printed on edge to edge and all over the shirts. These shirts don't have "hand" to it. Using the dye sublimation method, the ink is actually absorbed into the fabric instead of inks sitting on top of the fabric surface like traditional screen printing. Absolutely soft to touch and vibrant colors that doesn't fade and crack with washes.
No Minimum
One Side Printing / Both Sides Printing
Vibrant colors all over the shirt
Super soft feel
No fading or cracking
*** This process takes about 2 weeks
FRONT OR BACK (1 SIDE ONLY)
1 to 5  : $50 each
6 and up : $39 each
12 and up : $31.99 each
24 and up : $26.99 each
48 and up : $24.99 each
FRONT AND BACK (BOTH SIDES)
1 to 5  : $69 each
6 and up : $49.99 each
12 and up : $41.99 each
24 and up : $36.99 each
48 and up : $34.99 each
FOR LARGER SIZES, PLEASE ADD
2XL : $2
3XL : $3
4XL : $4
5XL : $5
6XL : $6
If you have any questions, please contact us at 805-581-0722 and ask for Mark or send us email using the contact form below.
If you wish to send us a file to print or for us to look at, please email it to spectracolor@gmail.com
2784 Cochran St.
Simi Valley, CA 93065
805-581-0722
We're on Sycamore & Cochran by Chase Bank. (Between Cronies & Jersey Mike's)